September 26, 2021
'Black Lighting' For precious opal turns up an unbelievable find, for once..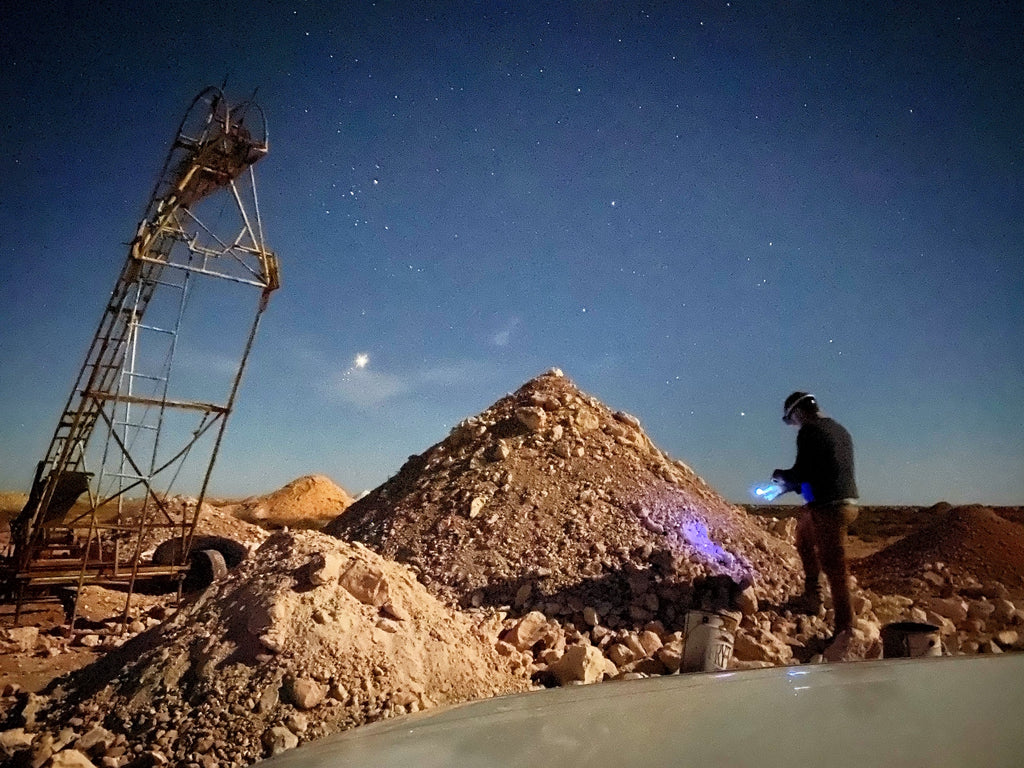 The Grace Opal brothers (worldclassopal.net & Kimberleyopal.com) AKA, Lochy and Shannon, set out one beautiful Coober Pedy evening to try their luck at blacklighting. Australian opal and Coober Pedy opal in particular is famous for it's flourescence under ultra violet light.
Above is a picture of Shannon with an 18 watt 240 v blacklight that we used for decades, thank God for the recent advent of powerful UV torches that weigh only grams and shine much, much farther than these shoulder destroying, time consuming behemoths.
Above is a long exposure showing Jupiter setting in the west and some of the old, extremely rich (in their day) opal workings on the Old 10 Mile and Larkins Folly (foreground) opal fields of Coober Pedy Australia. 
Black lighting on the surface around old diggings in Coober Pedy has been a game of diminishing returns over the last 30 odd years, and in the last dozen or so has usually been downright depressing. Rarely anything but a lot of hard work, very dangerous due to the ever present death traps that are mining shafts literally everywhere, not to mention the gaze of a thousand noodlers (fossickers) having stripped the dumps of all but tiny traces. 
Hope, however, springs eternal, and one particular night on the fields a few years back, we had that rare burst of energy and enthusiasm to brave the opal fields at night to blacklight, particularly as we wanted to try out the new high powered UV torches that had revolutionised so much of our mining and opal exploration.
Another long exposure looking south, note the southern cross and pointers, always taking the stage in the southern sky over Coober Pedy's crystal nights. 
 The above video was taken moments after uncovering a fully opalised belemnite in its host rock. the excitement is palpable as I inspect the ancient opal fossil to see the extent of its filling.
I couldn't believe my eyes when I found this belemnite pipe (carefully removed from its host rock, (natural breaks).
Mind blowing, super gem extremely stable high quality light crystal opal in large cuttable pieces, this will make some truly world class opal jewelry.. 
 The full extent of the opalised ancient squid (belemnite) pieces.
A stunning set made with the opal we sent to the UK via Fedex.
This piece didnt get to the website, Mum snapped it up at first glance! 
Another shot of those lovely earrings. 
Below is a video of the 'kingstone'. This is extremely rare and superb quality opal, cant wait to find a truck full! :-)